Center City Awards Recipients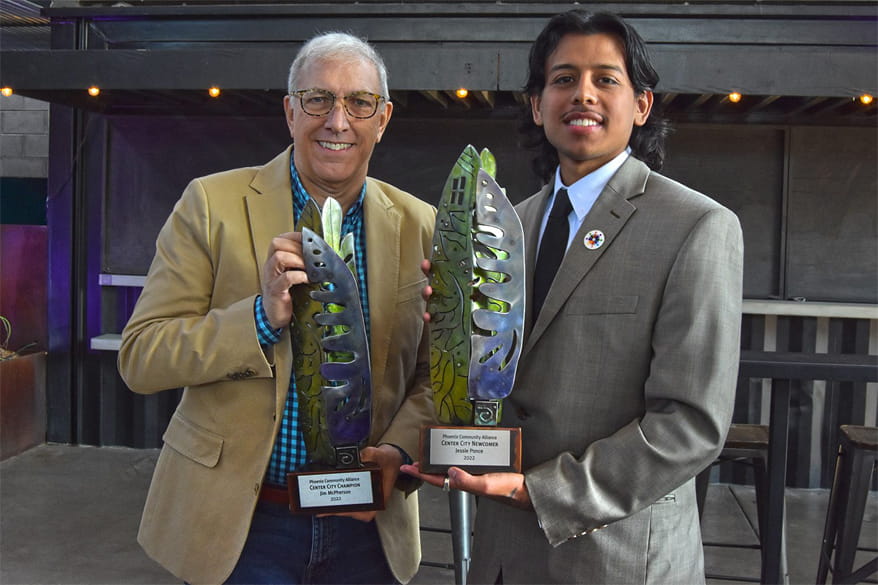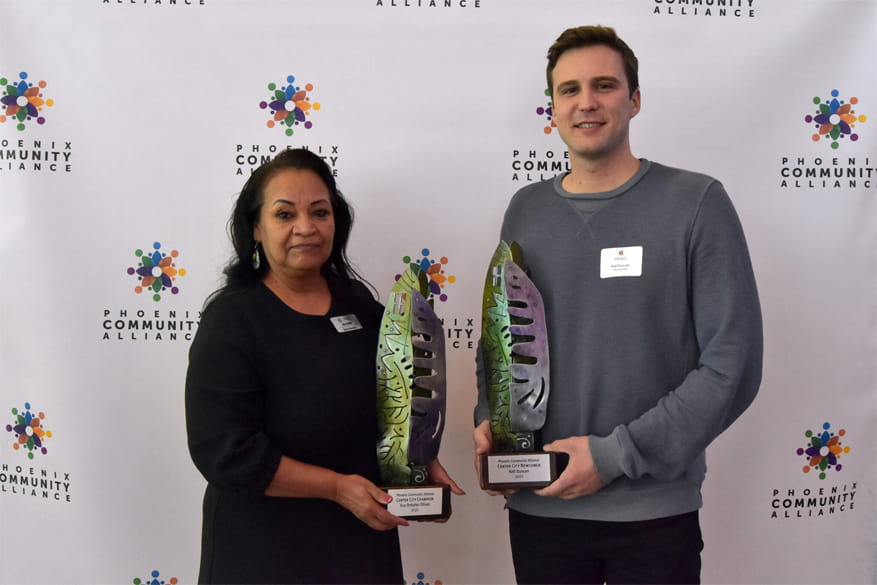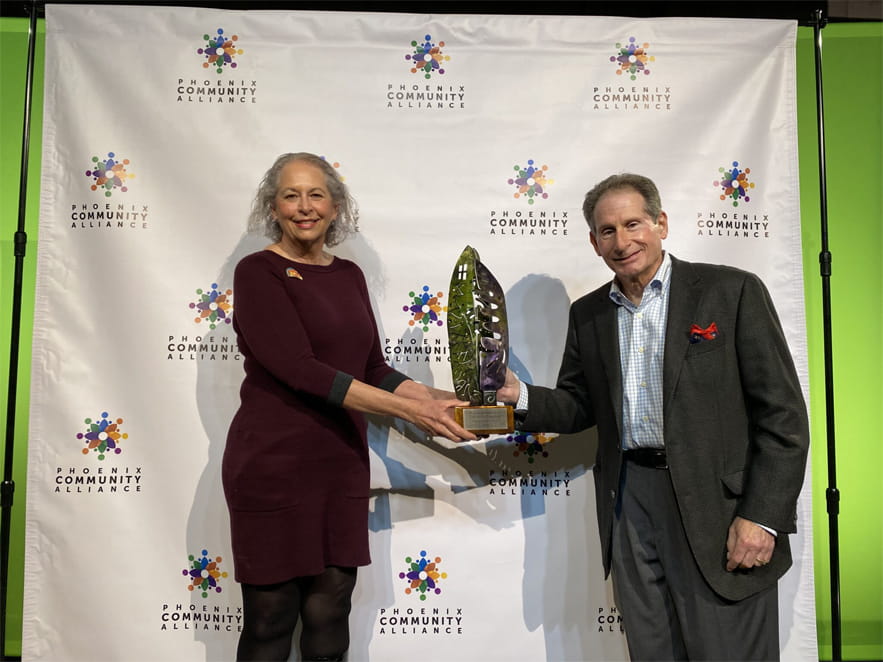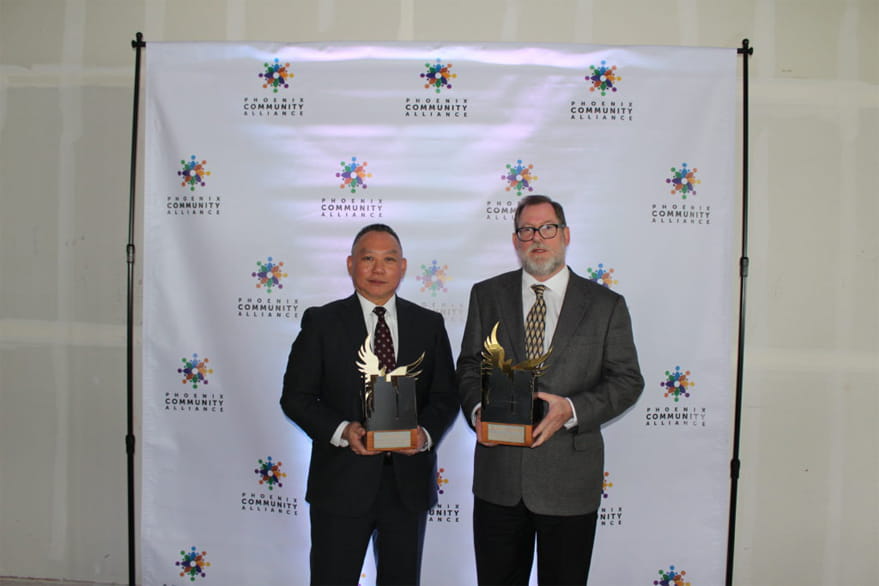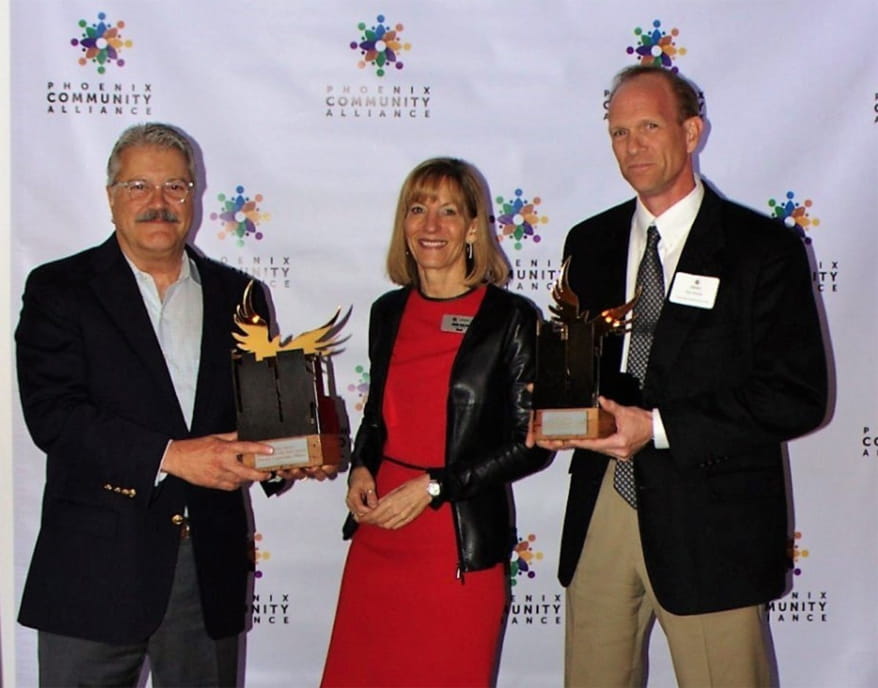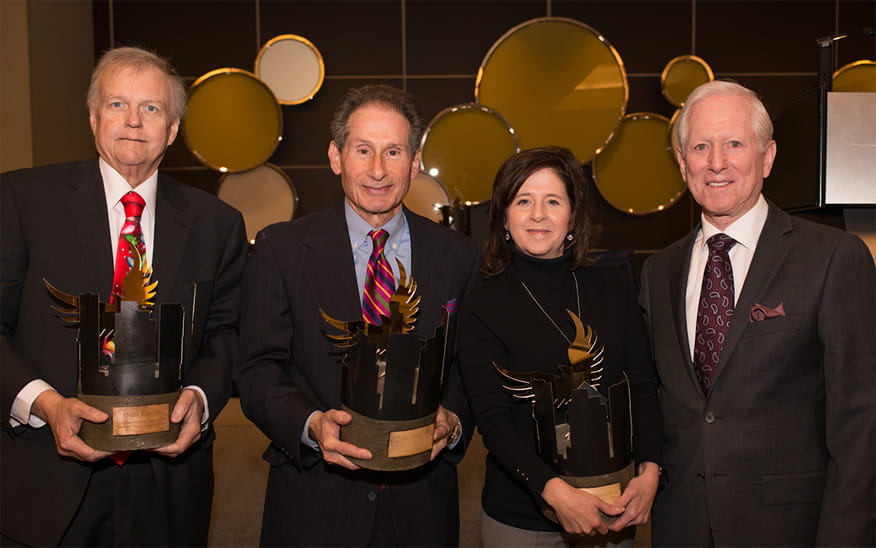 Since 1993, Phoenix Community Alliance has honored individuals from the public, private, and nonprofit sectors who have made outstanding contributions to advance the quality of life and further the renaissance of Central Phoenix.
The Center City Champion Award was presented from 1993 to 1997. In 1998, the award was renamed the Center City Starr Award after the late Barry Starr, PCA's long-time President. Prior to joining PCA, Starr served as a City of Phoenix Police Officer, Valley Big Brothers Executive Director, Phoenix City Council Member, and Assistant to Governor Rose Mofford and Mayor Paul Johnson. Starr was a driving force behind the development of Steele Indian School Park.
The Center City Awards were reimagined in 2020 and present both a Champion Award and Newcomer Award yearly. The Center City Champion is an individual who continuously goes above and beyond to positively impact our Greater Downtown Phoenix community. The Center City Newcomer is an individual who is quickly growing their impact on Greater Downtown Phoenix and is a future champion for our community.
Today, PCA continues to find the right opportunities for business leaders to collaborate with local governments and other stakeholders, including educational, cultural, nonprofit, and various business industries, to build the 21st-century city we want.
THE CENTER CITY AWARDS HONOR INDIVIDUALS WHO:
Consistently lead and challenge the community to continued quality growth and development.
Unfailingly support the commitment and efforts of business, government, educational, cultural, civic, and religious organizations, neighborhood groups, property owners, and individuals to revitalize Central Phoenix and its surrounding neighborhoods.
Tirelessly devote their time, talent, and resources to the betterment of Central Phoenix.
The list of Center City Award recipients is as follows:
Center City Award Recipients
2022 Jim McPherson, Champion
2022 Jessie Ponce, Newcomer
2021 Eva Olivas, Champion
2021 Kell Duncan, Newcomer
2020 Sheila Harris, PhD, Champion
2020 Dominic Papa, Newcomer
Center City Starr Award Recipients
2019 John Chan
2019 Brian Cassidy
2018 Dan Klocke
2018 Beatrice Moore
2017 Councilwoman Thelda Williams
2017 Larry Lazarus
2017 Rick Naimark
2017 Tim Sprague
2016 Donald Keuth
2016 Kimber Lanning
2016 The Honorable Greg Stanton
2016 Mo Stein
2015 Ed Zuercher
2015 JoMarie McDonald
2015 Charlie Levy
2015 Diane Yazzie Devine
2013 Stuart Flynn, M.D.
2013 Cindy Dach
2013 Greg Esser
2011 Jeffrey Trent, Ph.D.
2011 Eugene Giovannini, Ph.D.
2010 Linda Hunt
2010 Michael Ebert
2010 Michael M. Crow, Ph.D.
2009 Kurt Schneider
2009 David Krietor
2009 Cindy Gentry
2008 Richard Simonetta
2008 John Murphy
2008 Judy Jolley Mohraz
2007 Brian Kearney
2007 James Ballinger
2006 David Smith
2006 Steve Zabilski
2006 Mark Holleran
2006 The Honorable James Bruner
2005 The Honorable Phil Gordon
2005 Valerie Manning
2004 Richard Mallery, Esq.
2004 The Honorable John Nelson
2003 William Post
2003 Jack Tevlin
2002 Jerry Bisgrove
2002 The Honorable Ed Pastor
2001 Ronald Bookbinder
2001 Lattie Coor, Ph.D.
2000 The Honorable Rick Romley
2000 Bette De Graw, Ph.D.
2000 Neil Irwin, Esq.
1999 Martin Schultz
1999 Dan Cracchiolo, Esq.
1999 Sheryl Sculley
1998 Keith Turley
1998 William Shover
1998 The Honorable Skip Rimsza
1998 The Honorable Tom Smith
1997 Kevin Keogh
1997 Richard Snell
1997 Barry Starr
Original Center City Champion Award Recipients
1996 Ray Bladine
1996 Louis A. "Chip" Weil
1996 The Honorable Jane Dee Hull
1995 The Honorable Paul Johnson
1995 Jerry Colangelo
1994 Frank Fairbanks
1994 Marvin Andrews
1993 Donald Bliss
1993 Robert L. Matthews
We are so grateful to join such a powerful organization making a true difference in the communities we serve.
- Katrina Heineking,
COO, Transdev Services Inc.