« All Events
This event has passed.
Horizon Strategies: 2023 AZ Game Changers Sports Summit
Tuesday, November 14

@

09:00 am - 06:00 pm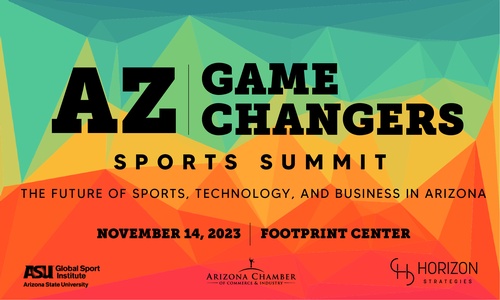 2023

Game Changers Sports Summit: The Future of Sports, Technology, and Business in Arizona
This event will be Arizona's first sports-specific business, technology, and innovation summit, celebrating the rise of Arizona's professional sports entertainment sector, an emerging economic powerhouse that has captured worldwide attention and investment.

Attendees will include sports executives, entrepreneurs, innovators, investors, athletes, and policy leaders. Together, we'll examine the impacts of sports on our economy and explore emerging trends in sports, sports technology, sports performance, and adjacent industries like tourism and hospitality.

Highlights of the event include:
Hosted at Footprint Center, programming will take place on the Phoenix Suns basketball court with VIP access to the arena

Success insights from Arizona sports industry leaders and legends

Release of the Arizona Sports Impact Study, highlighting Arizona's sports ecosystem strengths and position for economic growth

Networking with 350+ of Arizona's premier sports professionals, legislators, and entrepreneurs

More to be announced!
Details
Date:
Tuesday, November 14
Time:
09:00 am - 06:00 pm
Venue
Footprint Center
201 E Jefferson Street
Phoenix
AZ-85004