« All Events
This event has passed.
Skye's the Limit! Foundation - Let your heART Shine! Salsa Dance Experience
Saturday, November 18

@

07:00 pm - 11:59 pm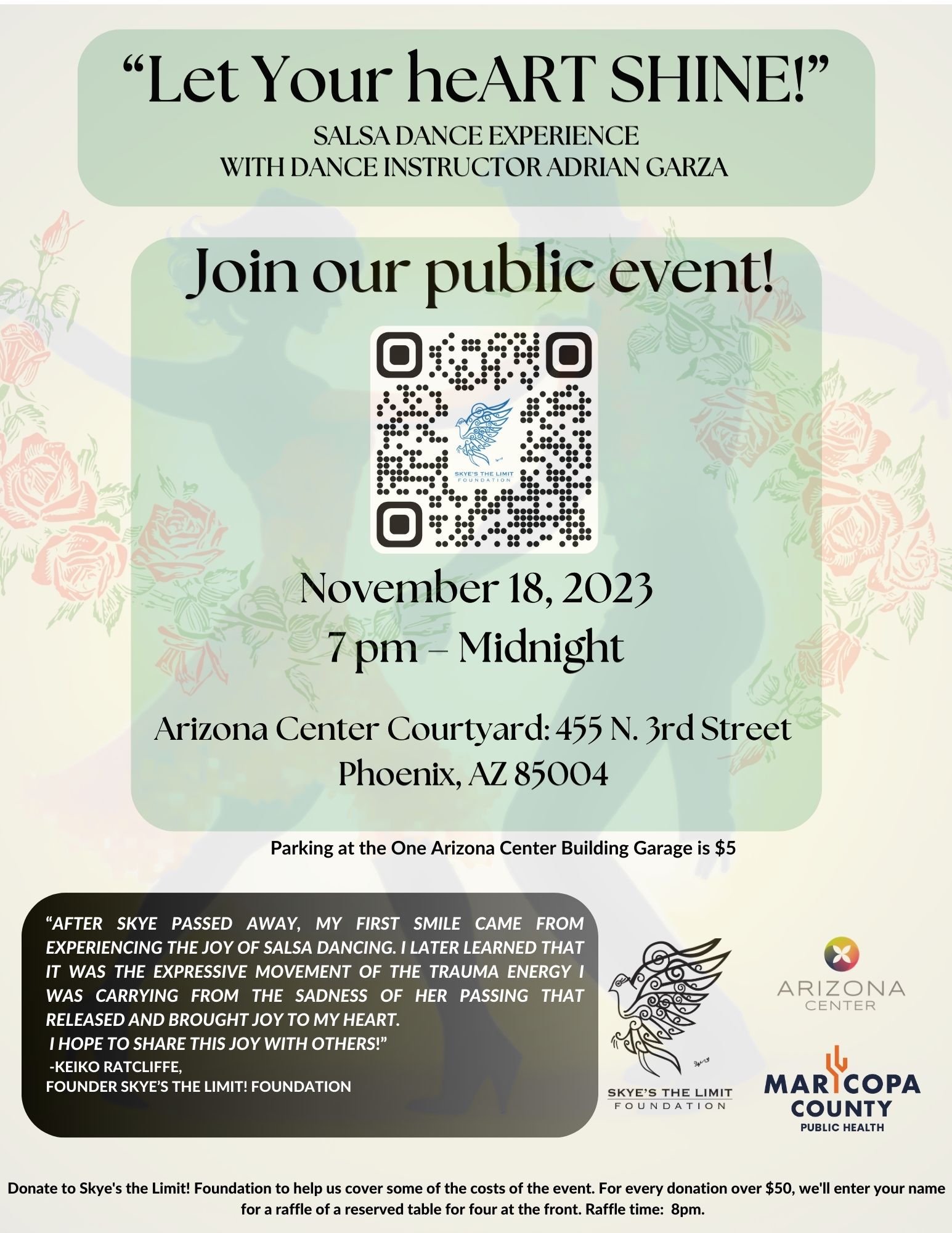 Let your heART SHINE! SAlSA DANCE EXPERIENCE Event Address: 455 N. 3rd Street, Phoenix, AZ 85004 - Arizona Center CourtyardPurpose: Bring Joy! "After my daughter, Skye, passed away, my first smile came from experiencing the joy of salsa dancing. I later learned that it was the expressive movement of the trauma energy that I was carrying from the sadness of her passing that released and brought joy to my heart. I hope to share this joy with others!" - Keiko Ratcliffe, Founder Skye's the Limit! FoundationDonate to Skye's the Limit! Foundation to help us cover some of the costs of the event. For every donation over $50, we'll enter your name for a raffle of a reserved table at the front for you. We have limited reserved tables and will raffle the tables after the dance instruction at 8pm. We are collecting art supplies for deserving youth in need to be given away at the annual Christmas in Garfield Event on December 9th. It is not required but if you would like, please bring one art supply item for one child.LEARN MORE ABOUT SKYE'S THE LIMIT! FOUNDATION: WWW.SKYESTHELIMIT.ORG This event is made possible through the Opioid Settlement funds through Maricopa County Department of Public Health and in partnership with Skye's the Limit! Foundation.
Details
Date:
Saturday, November 18
Time:
07:00 pm - 11:59 pm
Venue
Arizona Center Courtyard
455 N. 3rd Street
Phoenix
AZ-85004