« All Events
This event has passed.
Creative City Symposium
Wednesday, November 15

@

04:00 pm - 06:00 pm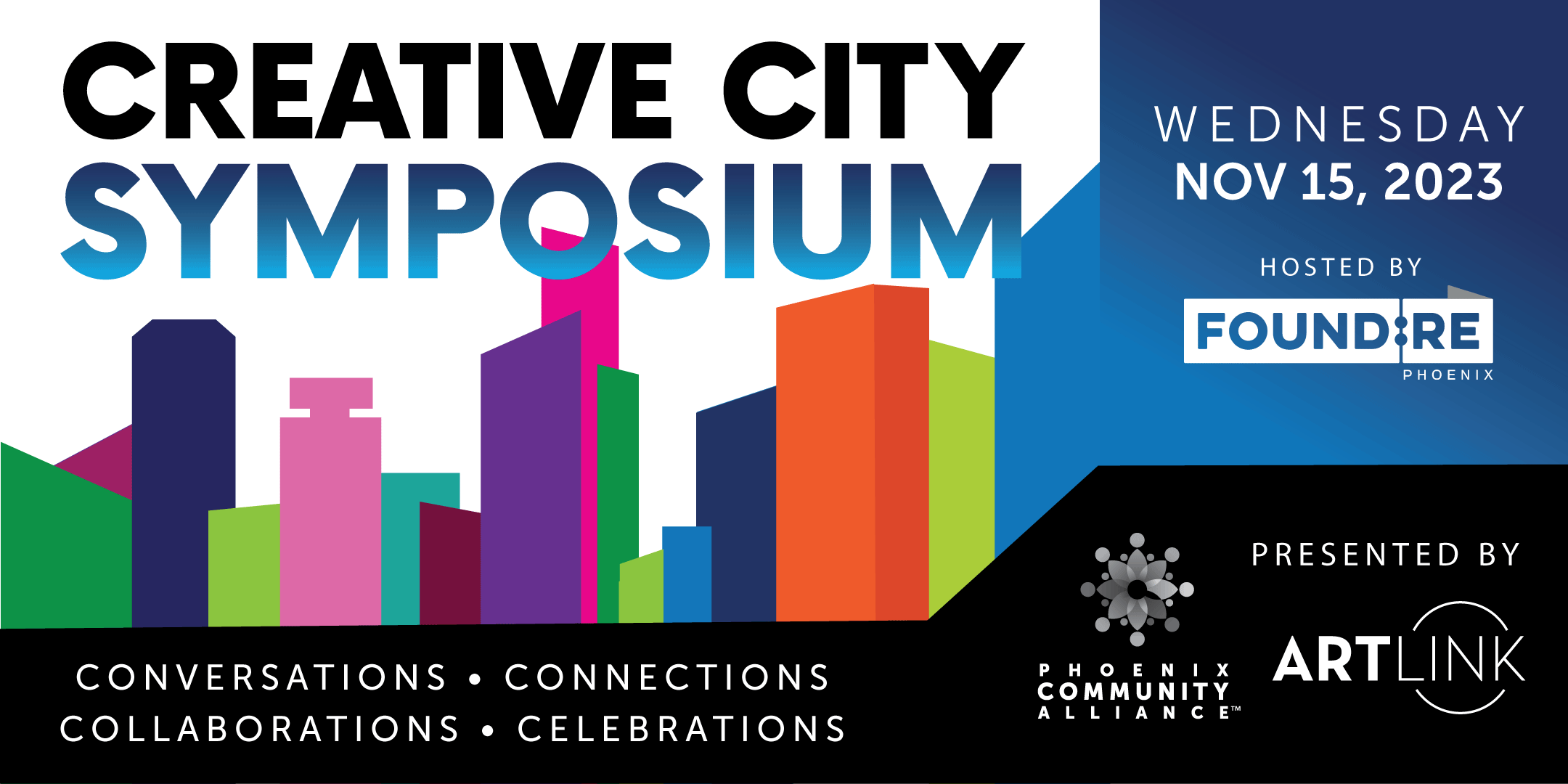 Online RSVP's are now closed. Please contact info@phoenixcommunityalliance.com for questions.
Join the conversation on Wednesday, November 15!
The Creative City Symposium is a collaboration between the Arts, Culture & Public Life Committee (ACPL) and other Committees whose initiatives contribute to the development of our creative city.
Engage in a multi-faceted discussion about how we can Activate, Advocate, and Build the creative city we want.
Come for the conversation - and stay for the happy hour reception afterward!
Symposium Program
Celebrating Our Creative City - Updates from the Phoenix Office of Arts & Culture
• Bloomberg Philanthropies, Arts & Culture Economic Impact, and More! - Mitch Menchaca, Executive Director, City of Phoenix Office of Arts & Culture
Building Our Creative City's Future - Shaping the creative future of Phoenix
Moderated by Leah Fregulia, Head of School and CEO, Arizona School for the Arts and ACPL Committee Vice Chair
• Phoenix General Plan 2025 (PlanPHX) Engagement Opportunities - Krista Shepherd, Principal, Multistudio, and Mo Stein, Principal, HKS Architects
• Best Practices for Art in Private Development - Kyle Jardine, Vice President and Market Executive, Wexford Science + Technology
Creativity in Action - Arts and culture's competitive advantage in business
• Faith Burton, Director of Special Projects, Reliance Management
Getting Around Our Creative City - The intersection between transportation, arts, and placemaking
• Public Art Plans for the South Central Extension/Downtown Hub – M. B. Finnerty, Public Arts Administrator, Valley Metro
Creativity in Action - The growing presence of fashion in our arts and culture community
• Tracy Lea, Director, Venture Development, J.Orin Edson Entrepreneurship + Innovation Institute, Arizona State University
• Tricee Thomas, Founder & CEO, The Garment League
Experiencing Our Creative City - The role of culinary arts in a creative city
Moderated by Catrina Kahler, President and CEO, Artlink, Inc. and ACPL Committee Chair
• Chef Stephen Jones, Owner and Executive Chef, The Larder and The Delta
• Kyu Utsonomiya, Partner, Conceptually Social Catering
Event Details
When: Wednesday, November 15, 4 - 6 pm
Check-in begins at 3:30 pm

Happy hour reception begins at 6 pm
Where: FOUND:RE Phoenix Hotel | 1100 N Central Ave, Phoenix, AZ 85004
Parking: Complimentary parking is available behind the hotel.
Details
Date:
Wednesday, November 15
Time:
04:00 pm - 06:00 pm
Venue
FOUND:RE Phoenix Hotel
1100 N. Central Avenue
Phoenix